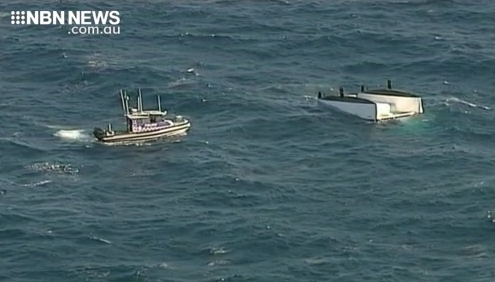 Three people have died and two have been rescued after a catamaran overturned off the coast of Newcastle this morning.
Just after 10am, an emergency beacon was activated from a 11.7m catamaran, after it capsized approximately 7 nautical miles off of Stockton Beach.
The catamaran had left Port Stephens this morning and was heading south towards Ettalong, on a trip to the NSW Central Coast, when it overturned.
The boat was battling high seas and winds recorded at over 70 kilometres an hour.
A 14-year-old girl and a 45-year-old man were clutching on to the over turned vessel when the Westpac Chopper arrived.
Westpac crew members also battled severe weather conditions, when winching the two survivors from the water.
The two rescued are now in a stable condition at John Hunter Hospital.
Three bodies were found floating in the water nearby, retrieved by Marine Rescue.
It has been reported that all on board were wearing life jackets.
A multi-organisation operation is underway with Marine Area Command, Marine Rescue Association and the RAAF all responding to the incident.
It's unclear at this stage which port the catamaran sailed from.