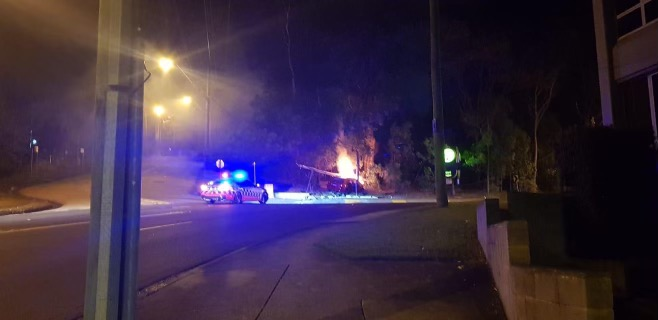 Three people have been taken to hospital following a police pursuit on the Central Coast this morning.
Central Coast Highway Patrol officers noticed a Toyota Corolla travelling at speed on Mcdonalds Road, Lisarow about 1.40am.
Officers attempted to pull the vehicle over however, it failed to stop.
Police pursued the vehicle along Henry Parry Drive, Gosford, where it crashed into a power pole – bringing down power lines.
A man and two women got out of the car before it caught alight and all three were arrested.
One woman was taken to Royal North Shore Hospital for suspected internal injuries and a fractured sternum.
The second woman was flown to Royal North Shore Hospital due to a pre-existing spinal injury and a suspected fractured ankle.
The man went to Gosford Hospital with complaints of an ankle injury.
A full investigation is now underway by officers from Brisbane Water Police District, together with officers from the Crash Investigation Unit.