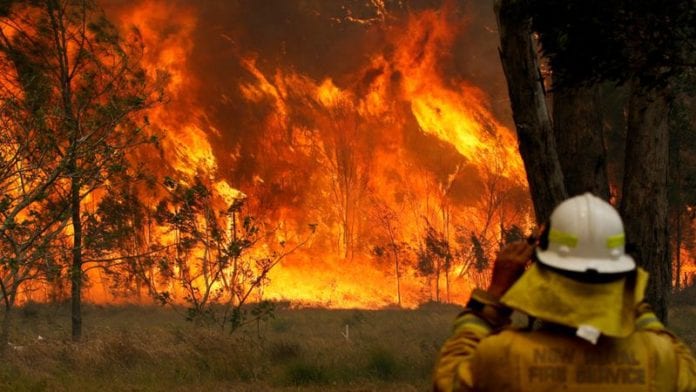 Serve to extreme heat wave conditions are peaking today with the mercury set to exceed 40 degrees in many parts of the state.
Hot and gusty westerly winds ahead of the trough, moving through NSW, is driving dangerous fire conditions.
Fires are expected to grow rapidly, be unpredictable, spot large distances, and impact on lives and property with little notice.
As of 5:15pm, there are five emergency level fires burning across the state.
GOSPERS MOUNTAIN FIRE, LITHGOW AND HAWKESBURY LGA | The fire is now impacting the outskirts of Lithgow. The blaze is also moving east towards Bowen Mountain and Kurrajong. Fire activity is increasing in the Bilpin and area, on the southern side of Bells Line of Road. If your plan is to leave, leave now if the path is clear to Richmond.
UPPER TURON ROAD, PALMERS OAKY | The fire is burning to the west of Castlereagh Highway, and is south east of Razorback Road. If you are in the area of Upper Turon, Turon River, Razorback Road, Cherry Tree Hill and Running Stream, watch out for embers that may start fires ahead of the main fire front.
GREEN WATTLE CREEK, WOLLONDILLY | The fire is burning on multiple fronts close to properties around Balmoral, Thirlmere, Tahmoor and Nattai. On the fires northern front, it has crossed to the western side of the Warragamba Gorge near Mountain Lowry Creek. It is too late to leave, seek shelter as the fire approaches.
TIANJARA FIRE, SHOALHAVEN LGA | Fire is burning on both the southern and northern side of Braidwood Road and west of Jannung Lane near Tianjara, and is burning in a northerly direction towards the Terpentine Road. It is too late to leave, seek shelter as the fire approaches.
CURROWAN FIRE, SHOALHAVEN LGA | This large fire is burning between Burrill Lake and Morton National Park in the north, the Budawang Range and Clyde Mountain in the west, and Batemans Bay in the south. It is too late to leave, seek shelter as the fire approaches.
Catastrophic fire danger has been declared for The Greater Sydney, Illawarra/Shoalhaven and Southern Ranges regions.
While, the Greater Hunter, Central Ranges and ACT are experiencing extreme fire danger.
Currently, there is more than 100 fires burning across NSW, of which more than half are yet to be contained.
A state-wide total fire ban remains in place until at least midnight Saturday 21 December 2019.
TRAVEL | Police are urging those travelling through these areas to delay all non-essential travel.
If you need to travel:
Ensure you have water, food, supplies and a full tank of fuel.
Ensure your mobile phone is fully charged before you set out.
Check that your route is clear to travel on, and monitor for changes.
Check that your destination is open.
HEALTH | Due to fire activity, both main and local roads may close without warning. For the latest information on road closures, check www.livetraffic.com or download the Live Traffic NSW app or call 132 701.
These conditions can have a serious impact on your health and it is important to remember that our bodies have to work extra hard to cope or cool down. Ensure you stay hydrated and pay particular attention to any symptoms (dizziness, headaches, racing pulse or nausea) of heat related illness.
AMBULANCE | Paramedics are urging people in fire affected areas to wear any form of eyewear and loose clothing to cover your skin to assist in reducing any incidental injury.
EVACUATION CENTRES | There are evacuation centres open in some areas, however your best choice is to relocate to the homes of family or friends in an area not under threat of bushfire.
Don't forget your pets! Make arrangements for their relocation now. Domestic pets may be taken to evacuation centres; there are other facilities available for larger animals.
The most up to date information regarding Evacuation Centres (for people and animals) can be found at: https://www.emergency.nsw.gov.au/Pages/for-the-community/disaster-assistance/disaster-assistance.aspx