Police have taken a number of several prohibited weapons and precursors for explosives from a Lake Macquarie home.
Just after midday yesterday, police were assisting with an eviction order at a Swansea property, where they spoke with two women and a man.
During an initial search of the home, sheriff officers allegedly found a firearm near the front door.
Police set up a crime scene, and executed a search warrant at the property.
During the search, they took more than a dozen firearms, ammunition, knuckle dusters, a sling shot, a crossbow, a jet ski and trailer believed to have been stolen, cash, prohibited drugs and powders believed to be precursors for the manufacture of explosives.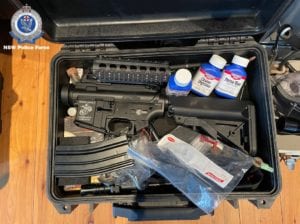 All items were taken to Belmont Police Station for forensic analysis, and the jet ski trailer were returned to the owner.
An investigation has been launched, and anyone with information should contact Crime Stoppers.