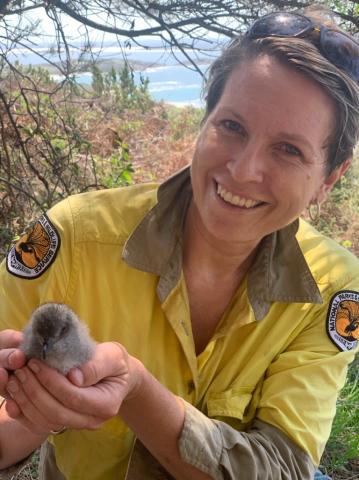 Gould's Petrels have bred on Broughton Island near Port Stephens for the first time in a decade.
The success is part of a program to restore seabirds to the island.
National Parks and Wildlife Service Director Kylie Yeend says the find is the result of long-term planning.
"A baby Gould's Petrel chick has now been found in a nesting box, showing that breeding is occurring on the island in response to our intervention. It's encouraging to see habitat creation being utilised for successful breeding."
Around 20 volunteer birdwatchers from Hunter Bird Observers Club have made quarterly monitoring visits to the Island over the last 8 years.
Volunteer Alan Stuart says the find is very promising for the future of the species.
"We'd found an egg in a December visit, and so as soon as we arrived last weekend in late January, we went straight up to see how things were going, and it was so exciting to look inside the nest box and see the chick."
Organisations working on the project are now looking to install more nest boxes in the area.