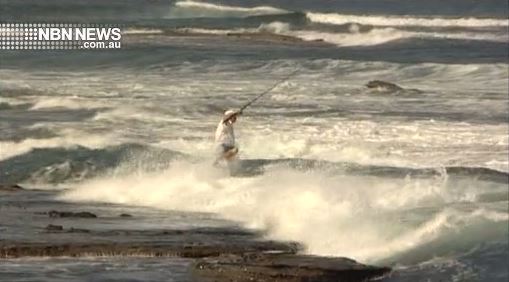 Rock fishers are now required to wear life jackets in certain locations at Port Stephens, Lake Macquarie and on the Central Coast, after the regions were officially declared high-risk areas.
It's one of the most dangerous leisure activities in Australia, with eight people on average losing their lives each year while rock fishing in NSW.
Port Stephens Council says the changes to the Rock Fishing Safety Act can help change that tragic statistic.
Central Coast Council made the decision to opt into the state laws last year – which will come into effect today from Patonga to Frazer Park.
The locations include the notorious Snapper Point, where a man in his 60s was swept away to his death in July.
Port Stephens, Lake Macquarie and Central Coast councils will now be able to access state government grants of up to $30,000 to help educate the community and implement the new law, with rock fishing safety signage and other awareness techniques.
Minister for Police and Emergency Services David Elliott said a moratorium on the issuing of fines will apply until 1 July 2020 to allow rock fishers to be made aware of the new rule.
"The Government supports an educative approach to ensure everybody is aware of this new requirement before fines start being issued," Mr Elliott said.
Following the moratorium, anyone failing to wear a certified Australian Standards life jacket while rock fishing in declared high-risk locations will risk a $100 on-the-spot-fine.
Taylor Martin MLC congratulated Port Stephens Council for opting in to the important public safety initiative to improve rock fishing safety, especially during the forthcoming busy summer period.
"Port Stephens boasts a beautiful coastline but there is no doubt we also have some dangerous rock fishing locations and the mandatory life jacket laws will now apply in these areas from Birubi Point to Tomaree Head," Mr Martin MLC said.