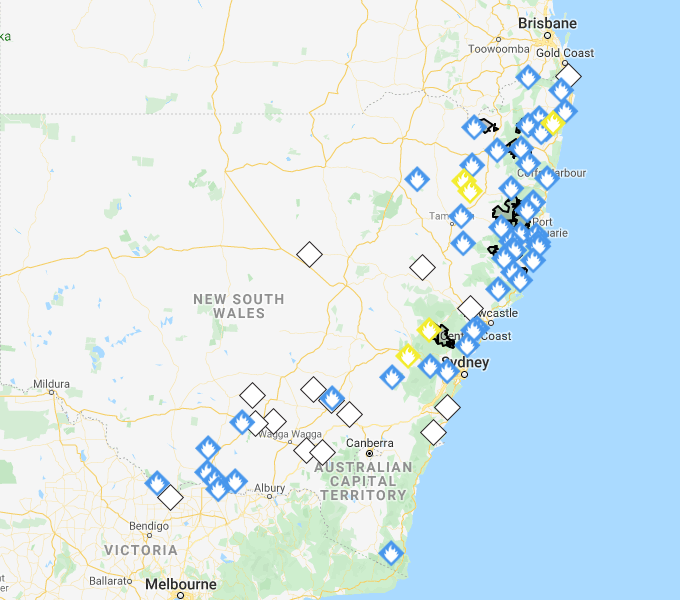 Another thick layer of bushfire smoke and dust from the west has blanketed northern New South Wales, as fire-fighters prepare for another day of dangerous fire weather.
The Rural Fire Service said the smoke is coming from around 50 bushfires burning mainly in the state's north and in the Hawkesbury area, and it's affecting the North Coast, Hunter and Central Coast.
The smoke that is affecting large parts of the east coast is expected to hang around for most of the day. The smoke is being mixed with dust from western NSW. If you're easily affected by smoke, take precautions to protect your health. #nswrfs #nswfires pic.twitter.com/d2VlC4nlYD

— NSW RFS (@NSWRFS) November 21, 2019
Authorities warn children, the elderly and anyone with heart or lung conditions to avoid exercising outdoors.
On Thursday, there are total fire bans in place across 12 NSW regions.
As of 2pm, there are five out-of-control fires burning at Watch & Act, including two in the North West as well as the Myall Creek fire in the Richmond Valley.
So far, that blaze has already burnt through 34,000 hectares.
Firefighters and aircraft are working hard to protect properties and slow the spread of the Myall Creek fire near Whiporie. Hot and dry conditions are making conditions difficult. #nswrfs #nswfires pic.twitter.com/MpS28DSvvm

— NSW RFS (@NSWRFS) November 21, 2019
It comes as the RFS confirmed more than 600 homes had been destroyed this bushfire season, with 503 of those in the past fortnight.
It said 612 homes had been wiped out in total, but more than 7,000 buildings in the line of fire had been saved by firefighters or members of the community.