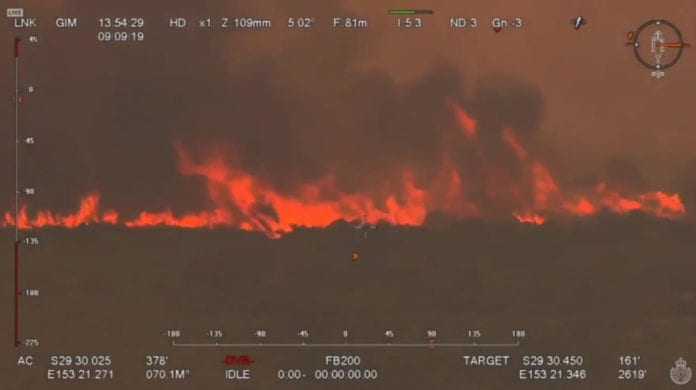 RFS crews have spent another painstaking night working to protect homes in the state's north, as the bushfire emergency enters a fifth day.
Three fires remain at 'Watch & Act' level, including a blaze at Shark Creek south of Yamba.
DRAKE FIRE – EMERGENCY WARNING
An emergency warning has been issued for a bushfire burning near Drake, west of Casino.
39,000 hectares has already been scorched by the fire, with the Bruxner Highway closed between Tabulam and Tenterfield.
Homes in the area of Macleods Creek Road are under threat.
If you are in the Sandy Hill area, you should seek shelter as the fire impacts.
SHARK CREEK FIRE – ADVICE
A fire which last night threatened homes in the coastal village of Angourie has been downgraded to Advice, after spending much of the day at a Watch & Act level warning.
Local roads including Angourie Road are closed.
Strong southerly winds are continuing to batter much of the coast, with gusts in excess of 50km/h already recorded at nearby Yamba.
EBOR FIRE – EMERGENCY WARNING
Further south and a EMERGENCY warning has been issued for a fire near Ebor, with crews on-hand to defend a number of isolated properties.
The fire is burning towards homes and properties in the Billys Creek area.
It's already scorched more than 65,000 hectares, with authorities warning it may take weeks to contain.
Strong south-westerly winds continue to bush the fire in a north-easterly direction.
We'll have more on the ongoing bushfire emergency throughout the day.