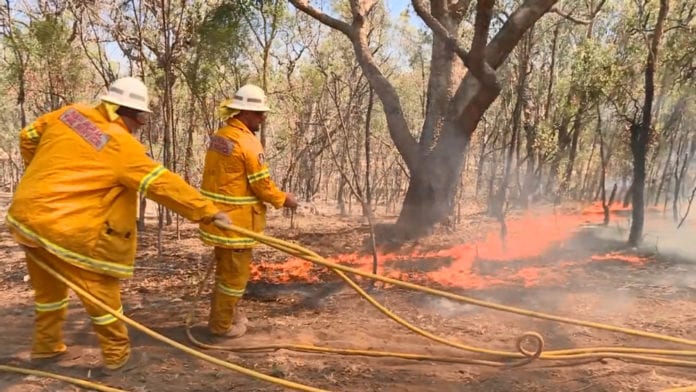 The Myall Creek Road fire south of Lismore is back at Emergency Warning Level. The fire is burning in a large area between Bora Ridge in the north and west of the Pacific Highway, north of the Clarence River and in the Summerland Way area. The fire has burnt approximately 40,500 hectares.
At 2.30pm on Friday afternoon, the Moonbi Range, Carrai Creek and Carrai East fires are at Watch and Act.
The Pacific Highway remains closed between Woodburn and Woombah due to a bushfire. Avoid all non-essential travel in the area.
If you need to travel between Grafton and Ballina, use the Gwydir Highway, New England Highway and Bruxner Highway instead. This alternative will add around 3.5 hours extra to your trip, and is not suitable for B-doubles.
Many other roads remain closed in bushfire-affected areas:
• Casino to Grafton – Summerland Way is closed
• Whiporie to Bungawalbin – Bungawalbin-Whiporie Road is closed
• Walcha to Yarras – the Oxley Highway is closed
• Colo Heights to Milbrodale – Putty Road is closed
• Colo Heights to Lower Portland – Wheelbarrow Ridge Road is closed
• St Albans to Webbs Creek – St Albans Road is closed
• Webbs Creek to Leets Vale – Bicentenary Road is closed
• Buccarumbi to Newton Boyd – Old Glen Innes Road is closed
• Clouds Creek to Coutts Crossing – Armidale Road is closed
• Nowendoc to Knorrit Flat – Nowendoc Road is closed
• Comboyne to Killabakh – Comboyne Road/Wingham Road is closed
• Comboyne to Upper Lansdowne – Koppin Yarratt Road is closed
• Telegraph Point – Red Hill Road is closed
• Lower Creek to Bellbrook – Kempsey Road / Armidale Road is closed