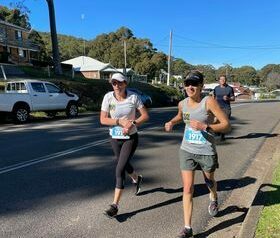 For the second year in a row the Gold Coast Marathon has been cancelled due to COVID-19 restrictions.
But the recent lock-down measures didn't stop three Lake Macquarie locals from running in the event they have been training for all year.
With a snap lock-down assigned in parts of Queensland, runners from all over were given the swift decision to still compete virtually.
The rules were simple; run in your own home city, record your result on an app, screenshot, send and upload to the Gold Coast Marathon website.
That is what Gemma Skelton from Coal Point and Sarah Clifford from Kilaben Bay did.
Starting at 7am on Coal Point Road, they set off on the 42 kilometre journey, toward Fassifern, with locals cheering them at different points on the track.
A considerable effort with an incredible amount of mental strength saw the women reach the finish line just after 11am, back where they started.
The positive side of the virtual marathon meant the third member of their running squad was able to compete along side them – from a distance.
Louise Fisher from Coal Point is holidaying around Australia, but stopped in the outback of Western Australia to run on a slightly rocky but beautiful track.
While it wasn't the marathon they expected, the women have achieved what they set out to do, something most people would only ever dream of accomplishing.