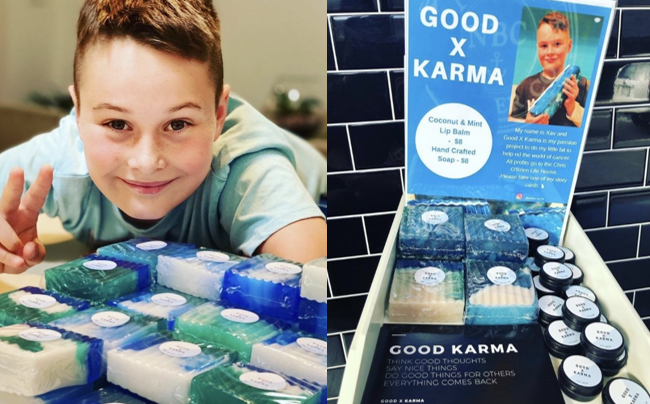 For one Tighes Hill Primary School student, a small life lesson turned into an on-going project to do good for others.
This week a young Xavier Neil, not only celebrated his 10th birthday, but reached a $25,000 mark with his small business 'Good X Karma' that donates all money raised.
Xav's pursuit to raise money for charity began in 2019.
At just 8 years-old, he and his father Ben participated in Surfebruary, a fundraiser that involves surfing or swimming everyday in February.
All money raised would be donated to Chris O'Brien Lifehouse, a non-for-profit specialist cancer hospital in Sydney.
The father and son duo set out to raise $1000 but greatly exceeded expectations, raising over $12,530.
Xav's father Ben expressed they were cheered on and supported by many generous locals, including artist Mitch Revs and Murray Howe from Murrays Brewery.
Even after such a big achievement, Xav knew he could do more, and eagerly wanted to continue helping a cause that assists so many.
From this, 'Good X Karma' was born.
With the support of his mum Emma and a passion for making and creating things, Xav began making soaps and lip balms, promoting them on social media.
"We sell soaps and lip balms and the colours are blue, green and white. The colours of the sea" he proudly explained.
25 different Newcastle local businesses now sell the 'Good X Karma' products and the brand is becoming well known.
Emma laughs as she recalls strangers regularly coming up to Xav in shops and cafes.
In February 2020, Xav set out to complete Surfebruary once again, but this time with a team of 39.
"He was brilliant through it all. 5 O'clock in the morning, every morning and it gets to day 28 and you're tired! But he was a champion" Emma said.
The fundraiser was even more sentimental as Xav tragically lost his Grandfather to cancer just months before.
His Grandmother joined in the efforts and swam with him daily, in remembrance of her husband.
As a team they raised over $39,000.
This year, Xav has shown no hesitation to hit the sea once again and will represent Newcastle as a Surfebruary ambassador for the second year in a row.