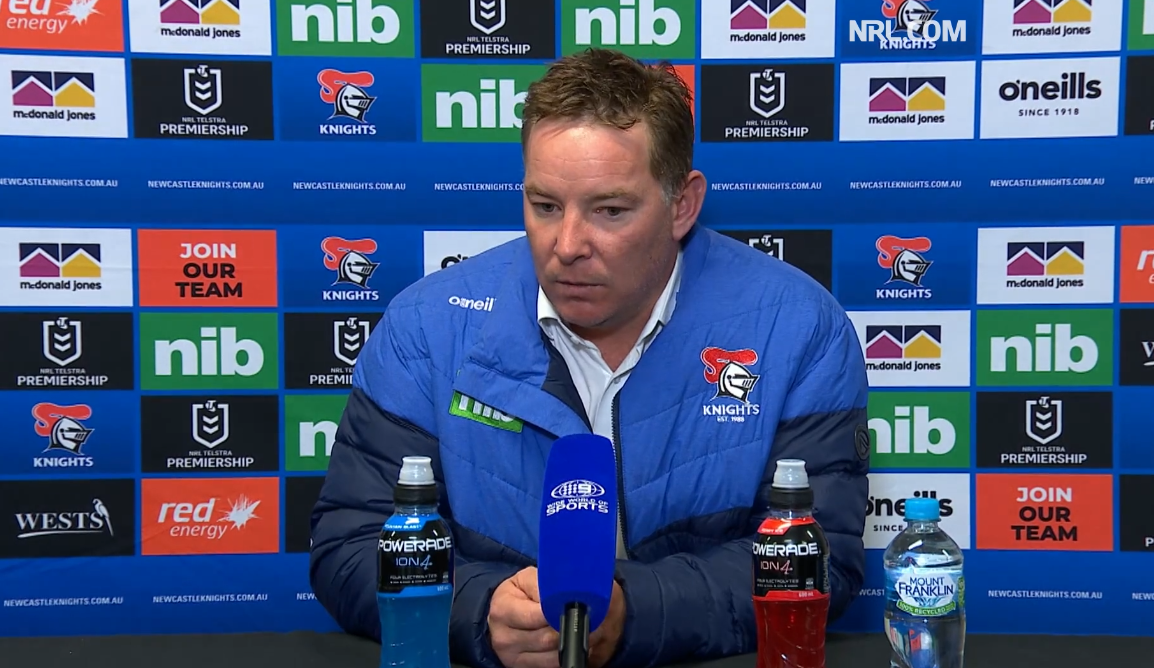 Newcastle coach Adam O'Brien said he "felt like crying" when veteran Blake Green left the field with a suspected ACL injury.
The 33-year-old went down in the 18th minute in his third game in a Knights jersey, after being signed until the end of the 2020 season.
He was hoping to find a deal for 2021 with the club but could be facing retirement instead as the club battles a huge injury toll.
Knights coach Adam O'Brien said Green is shattered.
"I felt like crying with him. But I'm getting used to it now though, I've had to do it a few times this year – it's carnage," he said.
O'Brien admitted there may be a tough road ahead for the 33-year-old but was optimistic about how the playmaker would bounce back from the devastating injury.
"What he's done for us straight away, and he's certainly had a great season what he did with the Warriors, he had an impact with us," he said.
"I definitely think he can overcome this. Andrew McCullough is in the same boat. He was outstanding for us so both of those guys, if they choose to go that way, certainly offer a lot."
O'Brien is again pondering who will fill the No.6 and No.9 jerseys – with Jayden Brailey ruled out with an ACL injury, a serious hamstring tear to replacement rake Andrew McCullough and a torn Achilles tendon to utility Connor Watson.
"It's not good, it's a bit like soldiers getting repeatedly shot, it's unbelievable," he said.
Kurt Mann has been doing cameos in and out of those positions, with Phoenix Crossland coming off the bench to play 63 minutes at hooker in Sunday's win over the Cowboys.
"He did a really good job in that No.9 position for the amount of minutes he had to play. He's never had to do that before."
However, Crossland is unlikely to be given the 80-minute assignment.
O'Brien will have to work out a plan to use Mann to share the dummy-half duties or bring utility options Mason Lino or Tex Hoy into the squad.