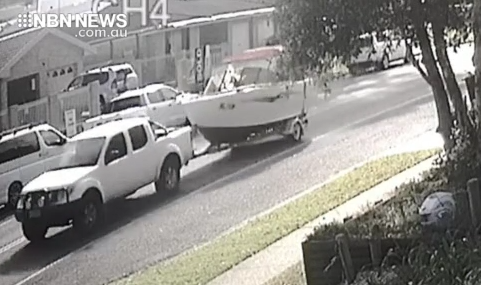 The driver of a white ute has been caught on camera, driving off with a stolen boat at Port Stephens.
The Trailcraft vessel was stolen from a Corlette home on Bangalls Beach Road around 11am on Thursday 18 June.
A Nissan Navara 2010-2012 model, with a black bull bar and black and yellow NSW number plates, was captured on CCTV escaping with the boat along Salamander Way.
Investigators are on the hunt for the driver of the ute.
Anyone with information about this incident is urged to contact Crime Stoppers on 1800 333 000.
Boat owners are also advised to ensure their vessels are properly secured to reduce the risk of theft. Other safety tips include:
Security devices installed on boats should be resistant to water, salt and humidity.
Install locks on your vessels. Marine dealers carry special exterior hatch locks. When fastened with a quality padlock, one of these improves security.
To enhance window security, locksmiths carry a variety of special, small locks and fasteners, which can be used to increase the security of other types of windows. For sliding windows, place a length of doweling in the track to prevent the window from being forced open.
If your boat is kept in the water, use a marina with full time security and/or good lighting.
If you are leaving your boat for long periods of time, ensure that someone else is able to check your boat on a regular basis.