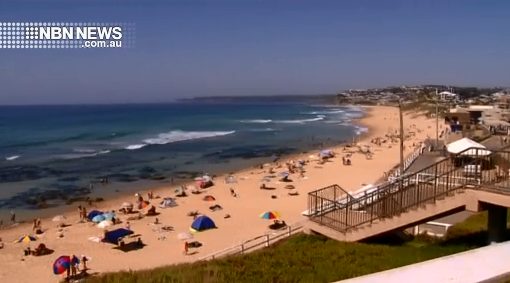 Authorities are urging NSW residents and visitors to stay safe as a hot weather moves through the state over the next three days.
Temperatures have been forecast to hit the mid-40's, with minimum temperatures remaining in the mid 20's overnight.
The extreme heatwave pattern is expected to peak today and tomorrow, with emergency services reminding everyone to:
Drink plenty of water (limit hot, sugary, or alcoholic beverages)
 Keep cool (stay in the air conditioning, if possible)
Take care of others (visit or contact those at risk of heat-related illness)
Have a plan (know who to contact if you need assistance and seek medical advice if you feel unwell).
While it is advised to avoid the sun during the hottest part of the day, large crowds are still expected at NSW beaches, rivers, lakes, and swimming pools.
State Emergency Operation Controller Gary Worboys has asked those cooling off by the water to be vigilant, and stay safe.
"I want to send a strong message to parents: if your children are out swimming, whether that is at the beach, a river, a dam or your backyard pool, and regardless of their age – they need to be supervised.
"It is also strongly recommended that beach and marine users head out early, enjoy the cooler part of the day and head home before the strong winds arrive," Mr Worboys said.
Importantly, motorists are reminded it is never okay to leave children, the elderly, or pets unattended in a car – even with the air conditioning running. Not only is this dangerous, it can be deadly.
Conditions are expected to cool on Sunday with a southerly change and possible showers or storms developing.
The windy conditions on Sunday in regional NSW are also likely to bring dust storms. Winds in excess of 50km per hour are expected to areas around the Snowy Mountains and could pose a hazard to road users.
The hot weather and windy conditions also has the Rural Fire Service on alert, saying those heading away for the weekend should check fire conditions and have a plan in the event they are threatened by fire.
Visit www.bom.gov.au <http://www.bom.gov.au/> for updated marine weather forecasts and warnings.
Visit the Rural Fire Service website (www.rfs.nsw.gov.au <http://www.rfs.nsw.gov.au/>) for bushfire advice and current warnings.