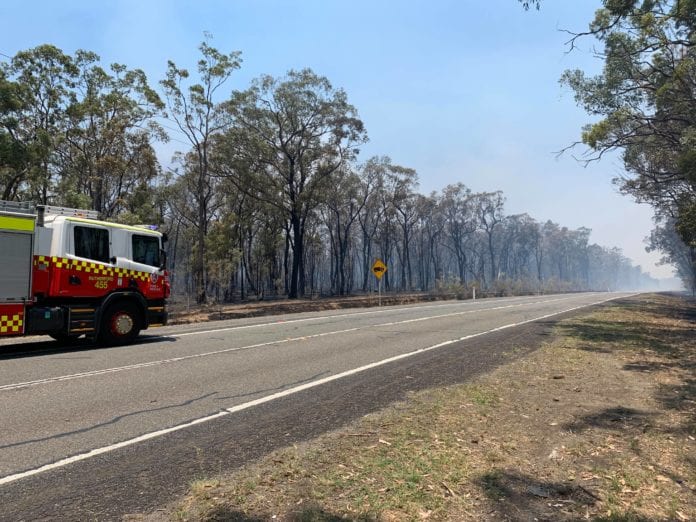 UPDATE | The Leggetts Drive bushfire at Pelaw Main has been downgraded to a 'Watch & Act' level warning.
If you are in the area of Avery Lane Stanford Merthyr, you are at risk.
Seek shelter as the fire approaches. Protect yourself from the heat of the fire
The fire is also moving in a south easterly direction towards the Richmond Vale area.
The blaze has burned through more than 200 hectares in size.
Erickson Skycrane currently waterbombing the bushfire burning near #KurriKurri. @nbnnews pic.twitter.com/KrABMy52by

— Sam Burbury (@SamBurbury) December 4, 2019
BUSHFIRE UPDATE | The fire is burning in an easterly direction towards Avery Lane, with firefighters and aircraft working to protect homes. If you are in the area of Avery Lane Stanford Merthyr, it is too late to leave. pic.twitter.com/kxh6ZPW775

— NBN News (@nbnnews) December 3, 2019
====
Leggetts Drive south of Kurri Kurri in the Hunter Valley is closed after a fatal car crash sparked a bushfire.
Fire units are working to contain spot fires triggered by the single-vehicle crash, south of Pelaw Main, at around 10 o'clock on Tuesday morning.
Police have confirmed the sole occupent of the car, died at the scene.
Authorities have asked motorists to avoid the area.
Leggetts Drive is closed in both directions between Neath Street and Lake Road.
George Booth Drive is closed between John Renshaw Drive and Mount Sugarloaf Road.
All vehicles are advised to use the M1 Motorway or the Hunter Expressway.
The fire currently listed at a 'Watch & Act' level warning, having scorched around 200 hectares of bushland.
NBN News' Madison Scott has more.