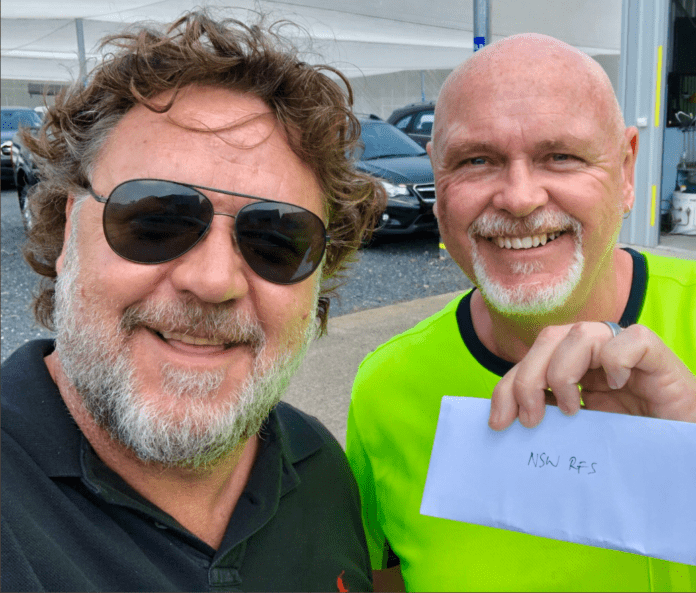 Russell Crowe himself describes it as a random, silly idea.
What would you pay for this not-quite white hat, in somewhat used condition, advertised on Twitter?
So from a random, silly idea;
twitter auctioning this slightly used hat … atleast $400,000 Australian has landed with @NSWRFS today. I also see lots of people have got onboard & given what they can.
Thank you. pic.twitter.com/Lsda3HYb8W

— Russell Crowe (@russellcrowe) November 29, 2019
The Australian actor Tweeting last night that he was auctioning his Rabbitohs hat, with the proceeds to go to mid north coast RFS brigades.
In the end Atlassian billionaire Mike Cannon-Brookes purchased the prized piece for $100,000 Australian, with Crowe saying he'd match it.
Fellow tech CEOs Scott Farquhar and Ryan Smith have also said they'll donate $100,000 to the New South Wales RFS as well.
The incredible tally comes just days after Crowe filmed himself assessing the damage at his Nana Glen property following the bushfires that swept through the area earlier this month.
We tip our hat to you, @russellcrowe 🧢 What an amazing and generous show of support for our incredible volunteers!#nswrfs #nswfires pic.twitter.com/FYSS1B9FKn

— NSW RFS (@NSWRFS) November 29, 2019