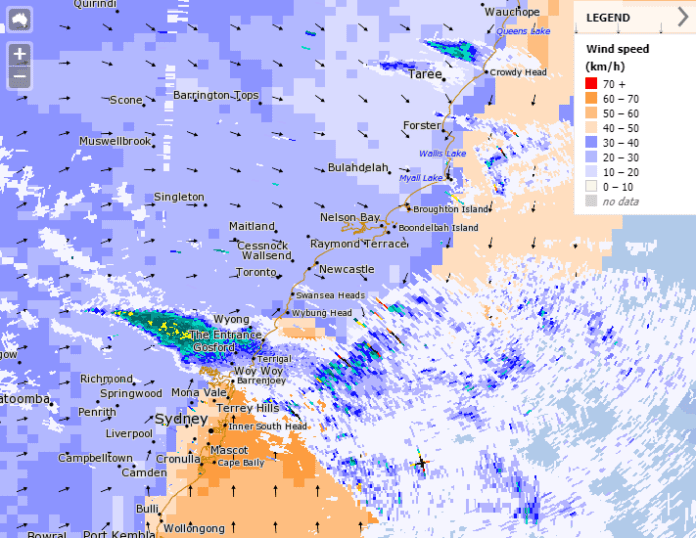 The NSW RFS says conditions were as bad as they were predicted to be on Tuesday, with at least a dozen homes in the Hunter and North Coast damaged or destroyed by 70-odd out-of-control bushfires.
The Liberation Trail fire north west of Coffs Harbour is more than 150,000 hectares in size and near the communities of Nana Glen and Koramba.
The Carrai East fire is 77,000 hectares and burning to the west of Kempsey, while the Gospers Mountain fire is now 35,000 hectares.
A crime scene had also been established after a suspicious new fire broke out south of Sydney in the Royal National Park.
NSW RFS Commissioner Shane Fitzsimmons says there's still a lot of work to be done before multiple fires are controlled.
"They're consuming an area of more than a million hectares.
"A fire of 100,000 hectares typically has a perimeter of around 1,000km.
"The enormity of the task to bring these fires properly under control, to consolidate them, to get around them and mop them up is enormous," Mr Fitzsimmons said.
Southerly change has reached #Sydney, with a 69 km/h wind gust at Sydney Airport. The temp dropped from 32.4°C to 20.5°C in 11 mins!

The change is yet to reach the firegrounds so the situation remains extremely volatile in these areas. Weather warnings https://t.co/F9kkaInx0H pic.twitter.com/WrIhvE1hJo

— Bureau of Meteorology, New South Wales (@BOM_NSW) November 12, 2019
A cool southerly moved across the state on Tuesday night, the sudden change in wind direction breathing new life into the blazes.
Temperatures dropped in the wake of the change but the state's not yet out of the woods with hot, dry and windy conditions predicted for Friday and over the weekend.
Commissioner Fitzsimmons said fire had spread late at night or early in the morning in the past, when conditions should have been easing.
Fortunately, there were no reports of serious injury or lives lost on Tuesday.