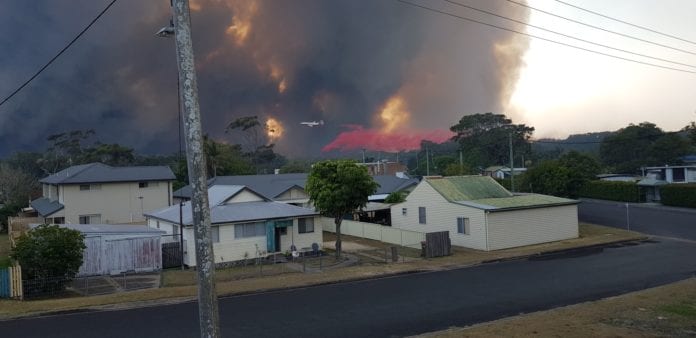 UPDATED – 5:30pm
Firefighter's fears have been realised with 16 fires in Northern NSW already at Emergency Warning Level by 6pm on Friday. Hot, dry and windy conditions are presenting challenging conditions for the more than 1000 firefighters battling to save properties.
The areas most affected by the dangerous blazes include Tenterfield, Armidale, Clarence Valley, Port Macqurie Nambucca and Kempsey.
The fire is burning in the Wandsworth area is at an Emergency Warning Level and is burning quickly in an easterly direction, towards Ben Lomand. Spot fires are starting ahead of the main fire front.
Kian Road fire and Fortescue Creek fires reached Emergency Warning Levels just before 2pm. The Kian Road fire has breached containment lines this afternoon due to strong winds, and is burning towards South Arm and McHughs Creek. There is erratic fire behaviour and the fire is spreading quickly. The Fortescue Creek fire is burning in the Mistake State Forest and is spreading in multiple directions.
People in Tapin Tops National Park and Dingo State Forest areas have been urged to seek shelter as the fire approaches, RFS issuing a Emergency Warning at 1:40pm. The fire broke containment lines and is moving east towards Caparra Road, Caparra.
The Lindfield Park Road fire at Port Macquarie, that's been burning for several weeks, has breached containment lines and is spreading quickly. The fire has crossed the Pacific Highway at Thrumster and reached Emergency Warning Level at 1:30pm.
An Emergency Warning was issued for the Kempsey area at around 1pm, as the Willi Willi National Park bushfire burns towards Toorumbee Road.
Just after midday the bushfire burning at Ellis State Forest, north of Tyringham, reached Emergency Warning Level. The fire is spreading quickly, in a south-easterly direction towards Billys Creek, due to strong and gusty winds.
The fire at Bills Crossing in Crowdy Bay National Park reached Emergency Warning Level just after 11:30am. Burning in a northerly direction towards Crowdy Head, it has scorched more than 2000 hectares. Crowdy Head Road is closed and water bombing aircraft are working to protect homes, with the fire also spreading to the Harrington area.
The Gulf Road fire at Tenterfield was raised to Emergency Warning around 9.30. The fire is burning to the west of Silent Grove Road and with strong winds, temperatures in the mid 30s and tinder dry conditions, fire authorities are concerned.
A fire at Hillville south of Taree is at Emergency Warning Level. The fire is burning on the western side of the Pacific Highway, north of Possum Brush and south of Rainbow Flat. The RFS has advised those planning to leave the Coates Trail / Road, Possum Brush or Rainbow Flat areas to head towards Tuncurry.
There are currently 90 fires burning in the State. The status level of emergency warnings constantly changes as the weather changes, keep up to date with fires in your area by monitoring https://www.rfs.nsw.gov.au/fire-information/fires-near-me
Education advise that 14 schools may be indirectly impacted by the fires due to road access. Please visit https://education.nsw.gov.au/public-schools/school-safety for further information.