Timothy Watkins was a young up-and-coming footballer, found dead on the side of a Northern Rivers road.
Today, his family and friends gathered for a game of cricket to remember their mate, and, at the same time raise valuable funds.
Mullumbimby is a community brought together by a tragedy, today, rolling the arm over in honour of Timothy Watkins.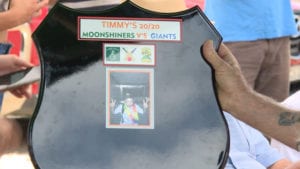 "He was a great little fella, he always brought a laugh to everyone and he never had a bad word to say about anyone, that's just who he is," said Timothy's brother Sean.
Sam Plowman from the Mullumbimby Giants telling NBN News about Timothy incredible drive and determination.
"He was the first bloke to put his hands up for these kind of community events, anything you needed doing, he was the first bloke there, just a really great guy," said Plowman.
The 22-year-old hit-and-run victim's body was found on the side of Wilsons Creek Road in the early hours of June 23, with his pushbike located nearby.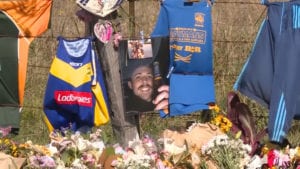 The inaugural 'Timmy's 20-20' aiming to maintain the memory of a bloke described by mates as a 'larrikin'.
"It's still a little bit fresh in everyone's minds, it's a really good chance to get together and have a bit of fun but also remember our good mate Timmy," said Reg Pentecost from the Mullumbimby Moonshiners.
Valuable funds raised will be split between mental health charity, Beyond Blue, and Give Me Five for Kids.
"We're just here trying to raise awareness for some local charities, sort of making a big day off it and bring two clubs together," added Pentecost.
"Out of a negative, we're just trying to pull out out as many positives as we can," said Plowman.
A 51-year-old man remains before the courts, charged over the 22-year-old's death.