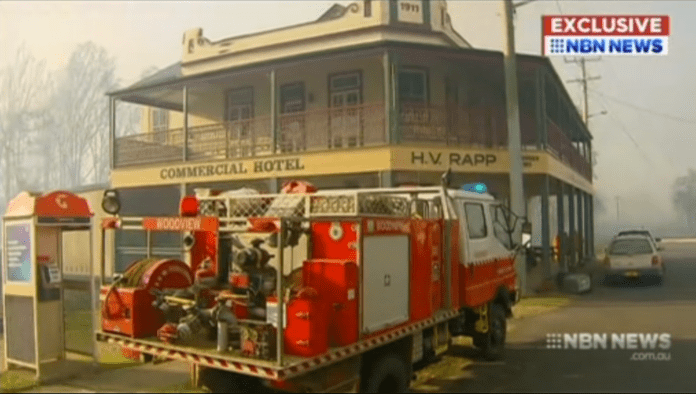 There was a high-profile show of support in bushfire-ravaged northern New South Wales this afternoon, with the Prime Minister and Premier dropping in for a chat with fire crews at Casino.
The political leaders were also given a first-hand look at the damage in Rappville, and thanked those who risked everything to help others.
Meanwhile, the New South Wales RFS has released new helicopter vision from the aftermath of the fire, showing the scale of the devastation.
The showers across the Busbys Flat fireground have reduced fire activity however there is a flurry of activity in Rappville and the surrounding area. FRNSW is dealing with a number of burnt dwellings that have had asbestos detected. Essential Energy is working to restore power to the area. ARTC are working to remove and replace rail sleepers across the Rappville rail bridge so that the rail corridor can be opened. Firefighters and council are checking fire affected trees so that roads can be opened. It's a combined effort from the community, volunteer and government services working to try and restore normality as quickly as possible.

Posted by NSW Rural Fire Service on Friday, October 11, 2019
The images show just how lucky some residents were to escape, with charred land in some cases only metres away from homes that were mostly untouched by the fire.
Rappville Public School was were most locals took shelter as the front passed, with the aerial pictures providing great insight into the efforts of firefighters, who fought to save what they could of the town.
Work to rebuild the isolated village got underway late last week, with power connected on Saturday.
It may take weeks to restore other essential services though, with Australian Rail Track Corporation workers already on the ground.
Several bridges along with around 30 kilometres worth of track is in need of repair, with the line's closure likely to cause downstream issues for those attempting to move produce to market.
The Rappville Rail Bridge, which forms part of the main corridor between Grafton & Brisbane on the town's southern side was all but destroyed in the fire, with work expected to take a number of weeks.