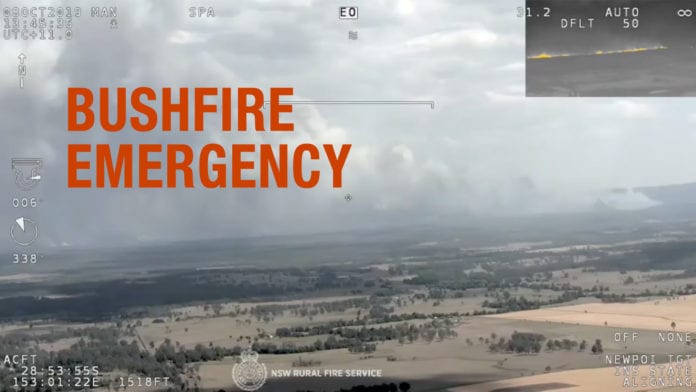 UP-TO-DATE FIRE INFORMATION | www.rfs.nsw.gov.au
MAJOR ROAD CLOSURES | www.livetraffic.com
LOCAL ROAD CLOSURES | https://northernrivers.myroadinfo.com.au/
BUSBYS FLAT – ADVICE
More than 30 homes were destroyed in the Busbys Flat fire, which tore through the rural community of Rappville on Tuesday.
Alongside the nearby Long Gully Road fire, the two fires have scorched more than 120,000 hectares.
Both are now listed at advice level, with residents in Pikapene, Mongogarie, Coombell and Ellangowan reminded to monitor the conditions.
An evacuation centre has been set up at St Mary's Catholic College on Canterbury Street in Casino and Woodburn Memorial Hall on the Pacific Highway at River Street.
Small domestic animals can be brought to those centres while larger animals can be taken to the Casino Showgrounds located on Summerland Way.
Residents are being urged to use extreme caution due to fallen power lines, fallen trees and emergency services operations in the area and stay away from fire affected area until deemed safe.
Health warnings are also in place due to significant smoke in and around areas affected by fire.
If it is safe to do so, remain indoors or seek medical assistance if required.
Trauma counselling assistance is available via the Mental Health Access Line (1800 011 511).
JACKADGERY NEAR GRAFTON – ADVICE
A fire burning near the Gwydir Highway east of Jackadgery is also causing concern for crews, with the blaze currently listed as 'being controlled'.
Firefighters have spent much of the week working to strengthen containment lines and complete back burning operations, after the fire came within a few hundred metres of homes on Tuesday evening.
The Gwydir Highway is closed between Glen Innes and Grafton, with other local road closures in place.
TENTERFIELD – ADVICE
Good news from Tenterfield with a blaze that on Tuesday threatened homes on the town's western side now listed as 'under control'.
Flames took hold in the vicinity of Kildare Road with the fire at one stage listed as 'emergency'.
It was downgraded on Tuesday evening.
Residents on Roos Road, Haddocks Road, Sunnyside Loop Road and Sunnyside Platform Road, as well as Woodside Road and Frost Road should continue to monitor conditions.