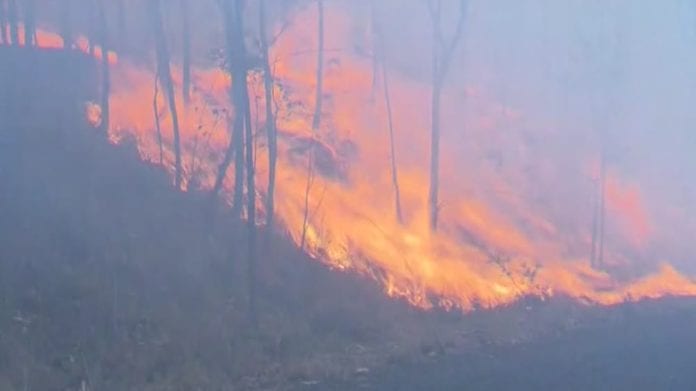 The Tenterfield Shire in north east New South Wales is in the grips a dual disaster – an early bushfire season which is being made worse by the enduring drought.
A number of homes in Tenterfield and Drake have already been destroyed and, with the Long Gully fire still burning at a Watch and Act Level, more remain in the firing line.
So far the fire has burnt through over 25,000 hectares in the Tenterfield Shire and left one local fighting for his life.
66-year-old RFS Volunteer Neville Smith was left critically injured when a sudden gust of wind caused his fire truck to be engulfed by flames.
He underwent surgery in the Royal Brisbane and Women's Hospital and remains in the Intensive Care Unit in a critical but stable condition.
Superintendent Mark Williams who is overseeing the emergency from the control centre in Glenn Innes says Mr Smith is in the minds of everyone on the fire ground.
"Every single firefighter is out there with their thoughts behind him, it's terrible to hear this sort of stuff happening but it is a risk of firefighting."
"Mr Smith is being treated in Queensland and he's certainly in the best of hands."
The firefighting effort is being hampered by the region's lack of water.
Usually the weapon of choice in bushfire disasters, water in the Tenterfield Shire is scarcely available.
For over three months, the local government area has been on level 4.5 water restrictions.
The big dry forcing fire crews to tackle the blaze in a different way.
"We've been using alternative methods such as clearing with heavy implements and tools as well as backburning."
With creeks running dry, private dams may need to be used in the firefighting effort, though Superindent Williams says this is last resort.
"We do need water to extinguish fires," says Superintendent Williams, "but we are also very very mindful water is a scarce commodity."
If local landholders have their water supplies compromised for the fire fighting effort, they can apply online through the Department of Primary Industries to have it replenished.
For the latest updates on the fire emergency visit the Rural Fire Service website.