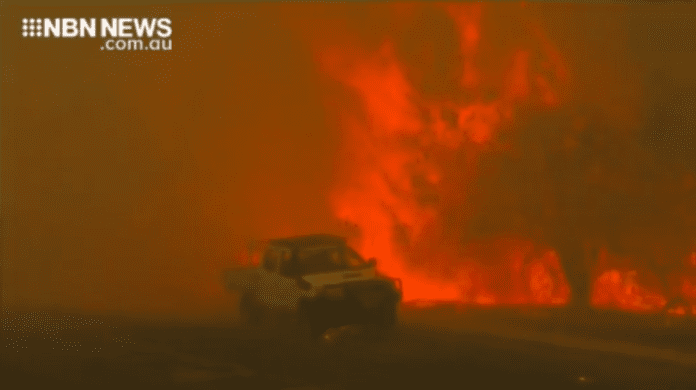 Emergency warnings remain in place for bushfires burning near Drake and Ebor in the state's north, while the threat at Tenterfield has eased.
TENTERFIELD FIRE – WATCH & ACT
At least four homes were destroyed in the northern New South Wales town on Friday, with residents forced to run for their lives as flames came within a few hundred metres of a local school.
Crews spent much of the night working to contain the blaze, which has already scorched more than 3,500 hectares and is burning to the south east of the town.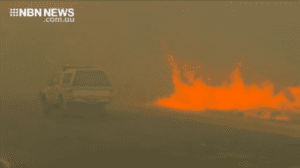 A 66-year-old firefighter had to be airlifted to hospital after he suffered serious burns while working to contain the blaze.
He was flown by the Westpac Rescue Helicopter to Royal Brisbane Hospital in a critical condition.
The Bruxner Highway and New England Highway are open, however may be closed at short notice.
An evacuation centre has been set up at Tenterfield Showgrounds.
Two fires are continuing to burn in Tenterfield. 4 houses have so far been destroyed with several others under threat.

More tonight on NBN News. @nbnnews pic.twitter.com/pmoVWGCp5m

— Isobella Evans (@BellaEvansNBN) September 6, 2019
The fire has been downgraded to Watch & Act.
LONG GULLY ROAD FIRE – EMERGENCY WARNING
Further east and an emergency warning remains in place for a bushfire burning in remote terrain south-west of Drake.
Residents in Ewingar, Tilbaroo and areas on the western side of the Clarence River are being told it is now too late to leave, and to seek shelter as the fire approaches.
Strong winds are fanning the flames in a north-easterly direction towards the Bruxner Highway and Plains Station Road.
EBOR FIRE – EMERGENCY WARNING
More than 48,000 hectares has been scorched by a fire north of Ebor, with homes in Tyringham, Merengo, Hernani, Meldrum and Dundarrabin likely to come under threat in coming hours.
Embers are likely to threaten homes ahead of the main fire front, with crews working to protect properties along Marengo Road, Armidale Road and Harness Cask Road.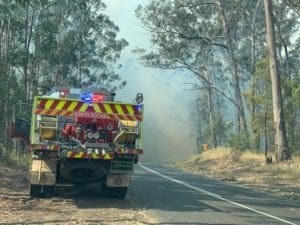 LEGUME FIRE – WATCH & ACT
Overnight conditions at Legume near the Queensland border have eased, with a fire burning near Flagstone Road downgraded to Watch & Act.
The fire is moving in a north easterly direction towards Mount Lindsey Road and Oaky Hill.
It remains out of control.