More than 70 infringement notices have been issued as part of a five day operation targeting heavy vehicles on the Mid North Coast.
Almost 200 vehicles were inspected at Jones Island near Taree, with defect notices issued for tyres, number plate, oil leaks, and work diary offences.
Court attendance notices were also issued for offences including fatigue breaches and drink driving, while one driver returned a positive reading to methylamphetamine.
The operation was a response to a horror period on northern NSW, which included a fatal crash involving two trucks at Nabiac.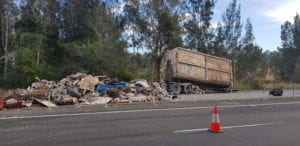 A 38-year-old Coffs Harbour man was killed in the crash, when his truck collided with a B-double at around midnight on July 26.