There was an incredibly lucky escape for a truck driver on the Central Coast this morning, after his rig crashed down an embankment.
Photos from the scene at Somersby show the truck resting in bushland, after it left the road while heading south on the M1 Motorway at around 11 o'clock.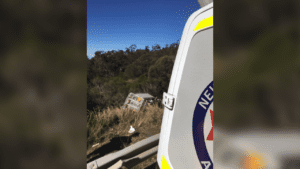 Despite the mangled wreckage, the driver was able to walk away with only minor injuries.
He was taken to Gosford Hospital as a precaution.