There was a nasty crash at Glendale this morning, with emergency services forced to cut away the roof of a car in order to free the driver.
Glendale Drive was closed for around two-hours as a result of the crash, with traffic returning to normal just before 9 o'clock.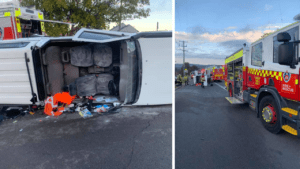 Fire & Rescue crews from Cardiff and Lambton worked to stabilise the ute, which had come to rest on its side, before cutting away the roof and doors to help the driver from the car.
They were taken to John Hunter Hospital for treatment.