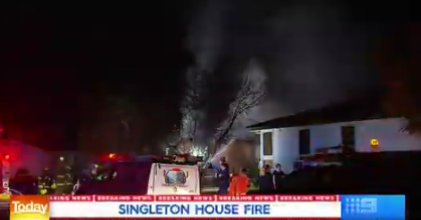 18:00 UPDATE
16:00 UPDATE
13:00 UPDATE
SINGLETON FIRE | A floral tribute has been left at the scene of a house fire in Singleton which claimed the lives of three children. A GoFund Me page has also been set up, raising hundreds within the first hour @9NewsSyd @nbntv pic.twitter.com/2FVgl7xEJn

— Georgia Anderson (@GAndersonNews) June 26, 2019
11:30 UPDATE
11:00 UPDATE
Police have praised the efforts of four neighbours who came to the aid of a family in a tragic house fire in the Hunter Valley town of Singleton.
Three children died in the fire, two five-year-old girls and an 11-year-old boy.
A 31-year-old woman and an eight-year-old girl were rescued from the burning home by neighbours.
The five-year-old girls were pulled from the home but died in Singleton Hospital. The body of the 11-year-old boy was found in the home.
Police say the woman and the young girl are in John Hunter Hospital. The woman is suffering burns and the child has smoke inhalation. Both are in a stable condition.
Police and firefighters were called to the Britcliffe Closet home around 3.30 on Wednesday morning and found the home fully engulfed in flames.
Neighbours who reported hearing the sound of breaking glass, managed to get the mother and eight-year-old girl out alive. While others tried to fight the fire with garden hoses.
A report is being prepared for the Coroner.
Neighbours heard the smoke detectors ring out, and the sound of windows smashing. Fire and Rescue will look into the home's fire place to see whether the blaze may have started there @nbnnews

— Georgia Maher (@MaherGeorgia) June 26, 2019
08:00 UPDATE
There's devastating news for the Hunter Valley community after police confirmed three children died in a house fire in Singleton this morning.
Police arrived first at the Brittliffe Close property around 3:30 on Wednesday morning but were forced back due to the intense heat.
Firefighters soon managed to bring the blaze under control, helping a woman and three children to safety.
The 31-year-old woman and an 8-year-old girl were treated for smoke inhalation by paramedics before being transferred to Singleton Hospital.
Two young girls were also taken to Singleton Hospital after being pulled from the burning home but were pronounced dead a short time later.
The body of an 11-year-old boy, was found inside the home.
Authorities are working to determine the cause of the blaze.
A neighbour told NBN News she was woken by the sound of screaming as the fire took hold.
"I was woken to the screams. I came out to find the house on fire. It was terrible," she said.
BREAKING | Police have confirmed the bodies of three children have been retrieved from inside a Singleton home which was destroyed by fire overnight @nbnnews pic.twitter.com/o82h0lGzGK

— Georgia Anderson (@GAndersonNews) June 25, 2019
It's the third deadly house fire since the weekend.
An elderly man died in a house fire on Saturday morning while another man was killed in a house fire on the New South Wales Victorian border on Sunday morning.