The Lake Macquarie community is rallying around a family who lost everything in a house fire at the weekend.
The home on Martinsville Road was completely gutted in the blaze, which took hold just before midday on Sunday.
Volunteers from the Rural Fire Service, along with Fire and Rescue NSW managed to extinguish the flames before it could spread to any neighbouring structures.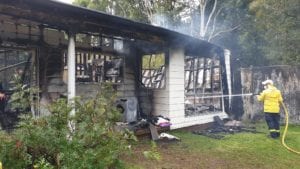 Fortunately, the family who lived in the home escaped uninjured, although the majority of their personal items were destroyed.
The local branch of the Rural Fire Service taking to social media to call on the community to support the family.
"If you wish to help with vouchers, pantry items etc, please drop them to us," read the post by Martinsville Rural Fire Brigade.
www.facebook.com/martinsvillefirebrigade/