Police were forced to deploy road spikes to end a chase on the Pacific Highway north of Newcastle on Friday.
Officers attempted to stop a Holden at Nabiac at around midday, after it was detected speeding.
A short pursuit was commenced, though later called off due to safety concerns.
The silver Commodore was later spotted at Karuah, with police successfully using road spikes to stop the sedan.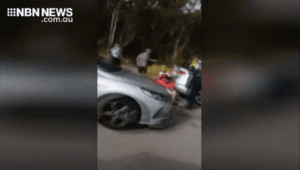 A 21-year-old was arrested.