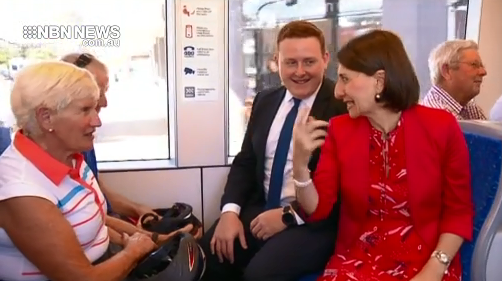 Premier Gladys Berejiklian has ridden the first passenger tram service down Hunter street this morning, joined by primary school students and older members of the community.
She tapped on at Newcastle Beach with Minister for Transport Andrew Constance, who were met at Newcastle Interchange by a crowd with mixed reviews.
"I remember when I first became the Transport Minister nobody used public transport in the CBD of Newcastle, the buses ran around empty and services didn't connect. This frequency and the value for money is going to attract people like never before," said Premier Berejiklian.
The official first day of operation is this Sunday where all fares will be on the Minister for Transport. Come Monday full fare services will run every 10 minutes.
That's less frequently than originally thought as the sixth and final tram is yet to arrive in Newcastle.
"There's no drama here, it's planned to do that. There will be a tram every 10 minutes and then we go to a tram every seven and a half minutes as the sixth vehicle arrives. We're just phasing it in and in the next couple of weeks we'll be running at seven-and-a-half minute frequencies." said Andrew Constance.
The Minister for Transport dodged questions about the delay on a business case for the light rail's extension, promising it will be wrapped up in the coming months.
See the full story tonight at 6pm.