Firefighters spent the evening working to contain a bushfire burning in the Newcastle suburb of Fern Bay.
As of 11 o'clock on Sunday morning, the fire was listed as 'being controlled' and remained at an 'Advice' level warning.
Advice: Seaside Dr, Fern Bay (Port Stephens LGA).#NSWRFS & @FRNSW firefighters are backburning along Nelson Bay Road to build containment lines on the fire. Nelson Bay Rd will be closed for around 2 hrs while this takes place. #nswfires pic.twitter.com/RYsXqKXq63

— NSW RFS (@NSWRFS) January 6, 2019
It's already burnt through around 28 hectares, with flames coming within a few hundred metres of homes on Dune Drive on Saturday night.
Water-bombing aircraft were called into to assist crews on the ground.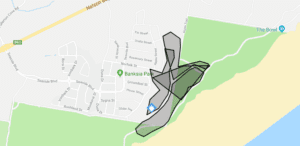 Local residents should continue to monitor the situation.