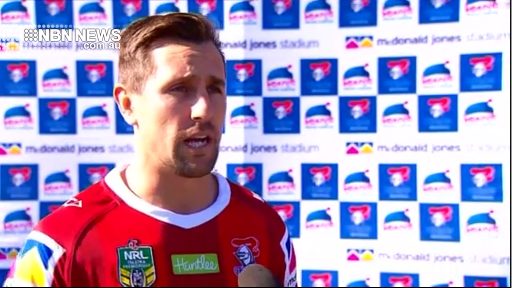 Mitchell Pearce has given an update on his torn pec muscle – having undergone surgery in April.
At this stage, his best-case scenario is a return against the Eels in round 18.
"Haven't done too much contact yet, so it's only in the early stages, but starting to run and do some weights. Stinging me not playing and I just want to get back out there as soon as I can."
Pearce's teammates host Cronulla on Sunday, while also raising funds for the Mark Hughes Foundation at the temporarily-renamed 'Beanie for Brain Cancer Stadium'.
The skipper is trying to help ensure the Knights don't give away wins, like they did against the Panthers and Titans.
"Past is the past, we've got to learn from that in video this week, there's a lot to play for this week on our home ground and it's a must win."
"As captain it's my responsibility to keep driving the standards and it is hard, you can only do so much, sometimes you just want to be out there."